| | |
| --- | --- |
| Filename | One Probe All Resources V. 1.0.0.zip |
| Filesize | 20 MB |
| Version | 1.0.0 |
| Date added | 27. Juni 2021 |
| Downloaded | 12 times |
| Category | Mass Effect Legendary Edition |
Scanning will detect all resources and anomalies. A single probe will deplete all resources and make all anomalies available.
ME2LE One Probe All Resources – v1.0.0
Enables all planet resources and anomalies from a single probe. Probe speed increased by 100% (optional with Recommended Installation).
There are currently two installation methods:
Install via mod manager – Recommended. Faster, safer, smaller, and more compatible
Install manually – ONLY while the mod manager is in public beta, the manual option will remain available.
——————————–
RECOMMENDED INSTALL INSTRUCTIONS
Download ME3Tweaks Mod Manager v7+ – Click Here
Download One Probe All Resources v1.0
Run ME3Tweaks Mod Manager v7+
Drag and drop OneProbeAllResources_1.0.7z onto ME3Tweaks Mod Manager v7+ and press Import mods button.
Select One Probe All Resources from the Mod Library and press Apply Mod
Select either Fast or Normal Probe Speed
Press install
Demo: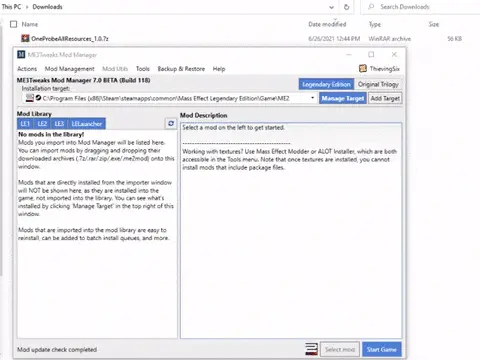 ——————————–
MANUAL INSTALL INSTRUCTIONS
Must be manually installed
Extract mod zip file
Find SFXGame.pcc;

LE_GAME_FOLDERGameME2BioGameCookedPCConsole

Backup SFXGame.pcc; rename it to something else
Copy the included mod SFXGame.pcc
——————————–
BROKEN OR HAVING ISSUES?
——————————–
KNOWN BUGS
Installing this part way through a save game may cause previously scanned planets to return no additional resources.
——————————–
CHANGES
v1.0.0 – Header fixes for MEM, Mod Manager Support
v0.0.2 – For Mass Effect Updated on June 7th, 2021
v0.0.1 – For Mass Effect Updated on May 17th, 2021
——————————–
Modification done by changing SFXGameModeOrbital::ScanDist to 50,000 using the SFXGameModeOrbital::DoPatchDefaultPropertyUpdates() function.